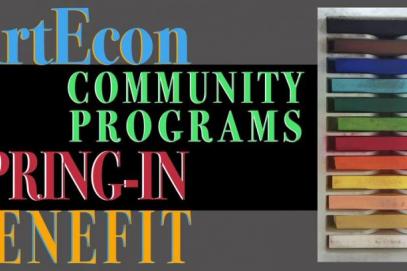 ARTECON SPRING-IN BENEFIT
Date:
Thursday, September 17, 2020 - 7:30pm
Description:
SPRING into SPRING into SPRING! ... w/ ArtEcon Initiative ... in New Haven's historic Westville Village!

Join us at Kehler Liddell Gallery for an evening of Live Music and Dancing, Bubbly and Dessert, and Art by award-winning CT artists, that you can take home! –- all to support the free and low cost arts and community programs produced by ArtEcon Initiative in the Westville West-Rock neighborhood.

TICKETS:

GO ART! ($65 each) - includes Dancing, Dessert, Prosecco / Non-Alcholic Punch, and an Original Artwork (sculpture, or work on paper/canvas) to call your very own! GO ART! ticket holders will draw a number upon arrival that corresponds with a donated work of art, valued at $75-$350, by some of CT's finest working artists. Limited number available.

JUST THE PARTY PLEASE! ($45 each) - includes Dancing, Dessert, and Prosecco / Punch, and so so so much Fun!


DINNER ANYONE? Event-goers can also enjoy Pre-Event Dinner Specials at Rawa Mediterranean Fusion or Manjares Fine Pastries/ Tapas Bar Restaurants, down the street from the event. RAWA is offering a 20% discount on your tab, and Sala Manjares is offering a free signature cocktail of your choosing. Reservations are recommended. Please bring your event tickets to confirm you are eligible for the special offered.

WHAT IS IT ALL FOR ANYWAY? This event is to benefit the community programs of ArtEcon Initiative, the smallest non-profit that you may never have heard of! Established in 2016, ArtEcon has produced over 150 free, or low cost, arts and community programs in the Westville-West Rock neighborhood of New Haven, CT, reaching more than 5,000 artists, kids, and grown-ups, to date. Please join us to celebrate ArtEcon's achievements, and help us continue to exceed expectations.

PARKNG: Free parking behind Kehler Liddell Gallery (accessible via Tour Avenue), and on the street, as well as a pay lot on Whalley and Blake.

CAN'T MAKE IT, BUT WANT TO SHOW US SOME LOVE?
Thank you!!! We greatly appreciate any and all support. We stretch every dollar – even a little goes a long way!

THANK YOU TO OUR EVENT SPONSORS!
Kehler Liddell Gallery, Amity Wine and Liquor, and Gar Waterman Sculpture.