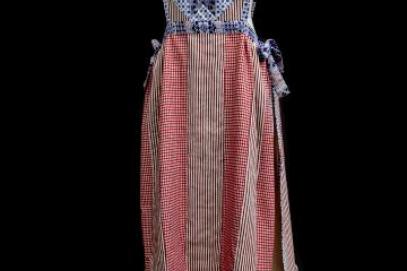 Artist Talk by Rachel Kanter, Fiber Artist
Date:
Saturday, January 12, 2019 -

12:45pm

to

2:00pm
Location:
85 Harrison St at Whalley Ave
Description:
Using history as a guide, fiber artist Rachel Kanter creates tallitot for women. Inspired by the four cornered robes worn by Hebrew priests in Biblical times, and designed using vintage apron patterns from the 20th century, these tallitot bring everyday motifs of American women's lives into the realm of the sacred object. In a related series, Kanter makes "Spiritual Mikvaot," ritual objects made from fabric for ceremonies marking life-changing events such as healing, relationships and reproduction. A collection of her art is exhibited at Beth El – Keser Israel in New Haven from November 9, 2018 to January 20, 2019. Kanter will talk about the exhibit at BEKI following the weekly Shabbat Kiddush luncheon. Sabbath rules will be observed.