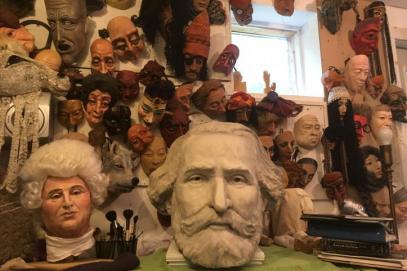 Artist's Talk with mask-maker Beckie Kravetz
Date:
Saturday, March 16, 2019 -

12:30pm

to

2:00pm
Location:
85 Harrison St at Whalley Ave
Description:
Conversation with Beckie Kravetz, looking at her current exhibition: Purim-themed masks as well as other theatrical and art masks from her Cummington, Massachusetts studio. Sabbath rules will be observed. Kravetz studied at the Yale School of Drama, Taller de Madera in Guatemala, the Instituto Allende in Mexico, and the Centro Maschere e Strutture Gestuali in Italy. In 2001, she was awarded a Fulbright Fellowship to study wood carving, ritual masks and puppets in Spain. Her masks and sculptures have been exhibited at the Jewish Community Museum of San Francisco, Metropolitan Opera Gallery and Lincoln Center Library, Roark Gallery and Dorothy Chandler Pavilion (Los Angeles), Tansey Contemporary, Downey and Shidoni Galleries (Santa Fe), Gallery 10 and Minds Eye Gallery (Scottsdale), Tucson Museum of Art, and the Museo del Títere (puppet museum) in Cádiz, Spain. In addition to her visual art, Kravetz designs theatrical wigs and makeup. In a career spanning more than 30 years, she has helped transform the faces of scores of opera singers, including Placido Domingo. She created makeup and masks for opera-themed Nike and Pepsi commercials featuring Charles Barkley and Michael Jackson, and contributed masks to the Disney film The Haunted Mansion and an ad campaign for Max Factor that featured Madonna. At her studio in Cummington, Massachusetts, www.BKSculptureStudio.com, Kravetz creates both theater and fine art masks. Her designs include classic Commedia and Greek theater masks, realistic human faces, portrait masks, neutral masks, opera masks, Purim masks, cosplay masks, animal masks and fantasy creatures. Her sculpture includes figures and busts in bronze, ceramic and mixed media.