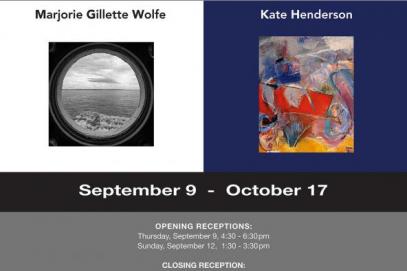 Exposed Secrets- Marjorie Gillette Wolfe Secrets Exposed- Kate Henderson
Date:
Thursday, September 9, 2021 - 11:00am

to

Sunday, October 17, 2021 - 5:00pm
Description:
The latest from Marjorie Gillette Wolfe - a combination of both photographs and drawings - grew out of the last year of isolation. The artist identifies the last solitary year as providing an "opportunity to explore my photo files … Included in this exhibit are images I exposed, but have not shown in a themed exhibit. Simply composed, they show a variety of my favorite subjects and introduce several new ones. And yes, I also draw." For followers of Wolfe's work, this last revelation may perhaps be the biggest surprise of all!
On the other side of the gallery, Kate Henderson presents a different kind of revelation. The artist states: "In this body of work, I am exposing both how I work, and the underlying themes of my work, that I have not revealed before. My work frequently starts with a symbolic pentimento (the presence or emergence of earlier images, forms or strokes that have been changed and painted over). This is usually a collage of previous drawings or paintings. This collage lends to the imagery and also creates a physical barrier that I must work against and through to unlock the true image. Secrets also refer to the themes I use from mythology and personal narrative, usually hidden and known only to myself or revealed by title."