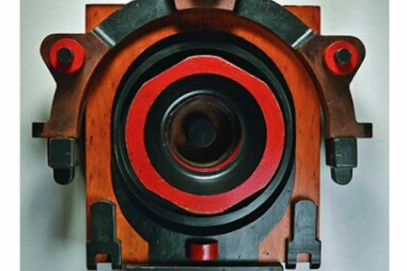 Gar Waterman, A Pattern Language
Date:
Thursday, February 13, 2020 - 11:00am

to

Sunday, March 15, 2020 - 4:00pm
Description:
In A Pattern Language, sculptor Gar Waterman uses wooden foundry patterns from the National Pipe Bending Company (NPBC) to take a fresh look at a vestige of New Haven's industrial past. NPBC prospered for over 100 years on River Street in Fair Haven as a subsidiary of The Bigelow Boiler Company. Patterns were a key part of the cast iron production process, but orphaned by changing times and the exodus of manufacturing from the New England landscape. When NPBC closed, the company abandoned the building and left behind a stash of patterns in the attic. A classic example of artistic alchemy with the found object, the sculptures retain the pattern's original patina of time, use, and color while endowing them with new life and meaning.
Opening Reception; Saturday, February 15, 3-6pm, with Artist Talks at 3pm
Gar Waterman was born in Maine and grew up in Princeton, NJ. After graduating Dartmouth College, Waterman moved to Pietrasanta, Italy, where he lived for seven years and learned to carve stone. His sculpture combines observation of natural phenomena, sensual devotion to the tactile possibilities of material, and a model maker's tinkering sensibility. In 1996, the artist acquired an abandoned warehouse for $1 from the City of New Haven and transformed it into West Rock Studio, where he has lived and worked for the last 24 years.