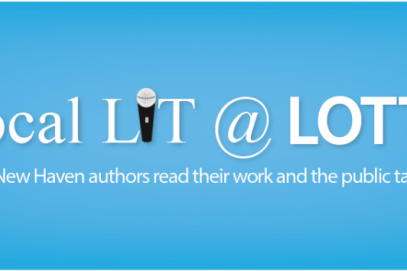 Date:
Tuesday, June 4, 2019 -

7:00pm

to

9:00pm
Description:
Local Lit @ LOTTA Event to Feature Two Stories About Coupling
Contact:  Erin Townsend or Emmett McMullan at LocalLitAtLOTTA@gmail.com


Local Lit @ LOTTA prizes stories with fresh perspectives, bringing writers and literature fans into discourse over unpublished stories and published ones. A critique, facilitated by event founder Rebekah L. Fraser or one of the other members of the Editorial Board, follows each reading and helps attendees dive into the deep end of the pool of the writing process. The event seeks to emphasize and enjoy the process of writing. Conversations during talk-backs center on the effects of each author's stylistic choices.


On Tuesday, June 4th, Local Lit @ LOTTA  will feature a poignant odd couple of stories about coupling from the minds of two New Haven area writers:


MICHAIL MULVEY, an adjunct instructor of American literature, holds an MFA in creative writing and has had short stories published in literary magazines and journals in the US, the UK, and Ireland. His work has appeared in such publications as Johnny America, Scholars and Rogues, Prole, The Front Porch Review, Poydras, The Summerset Review, Roadside Fiction, The Umbrella Factory, Crack the Spine, Literary Orphans, and War, Literature and the Arts. He will be reading a work entitled "Tess is her name," which paints a portrait of an efficiency and its inhabitants.

CAROLYN LUSCH is a writer, bicyclist, urbanist, mother, and longtime Michigander who moved to New Haven two years ago. Before pursuing urban planning she wrote for The Michigan Daily and Groundcover News, and is an enthusiastic participant in local writing groups wherever she finds them. Carolyn will be reading her piece "Alexandria's Baby," about a woman's complicated entanglement with a famous writer.
The next Local Lit @ LOTTA will occur Tuesday June 4th at 7 PM on The Range at LOTTA Studio, 911 Whalley Avenue, New Haven 06515. Local Lit @ LOTTA hosts readings on the first Tuesday of every other month; friendly banter, sharp stories, and plenty of refreshments are all provided.  A suggested donation of $5-10 dollars helps maintain the series as a thread in the tapestry of arts events in New Haven.
Submissions are rolling, and guidelines can be found at LocalLitAtLOTTA.com.