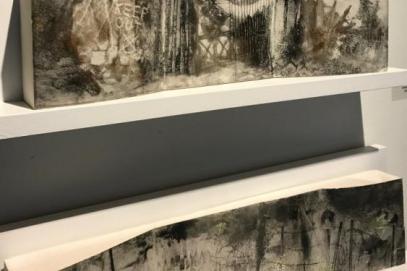 Printing on Plaster – A Demonstration
Date:
Sunday, June 2, 2019 - 1:00pm
Description:
Join artist Tom Edwards as he demonstrates the technique of printing etchings on plaster.
About the Instructor: Tom Edwards received a MFA from Yale University School of Fine Arts, majoring in painting and printmaking. He was awarded the Elizabeth Canfield Hicks Honorary Award in Drawing. He received a MA from Kansas State University, majoring in drawing and printmaking, where he also received a bachelor of architecture degree. Tom's work has been exhibited extensively in solo and group exhibits worldwide, and is held in numerous collections such as: Metropolitan Museum of Art (NYC), Library of Congress (DC), National Museum of American Art (DC), Smithsonian Collection (DC), The New Britain Museum of American Art (CT), Baltimore Museum (MD), and The Boston Printmakers Permanent Collection (MA), to name a few.
THANK YOU TO OUR SPONSORS! This demo is presented by ArtEcon Initiative (www.ArtEconInitiative.org) and made possible with support from the Department of Economic and Community Development, CT Office of the Arts, which also receives support from the National Endowment for the Arts, a federal agency.