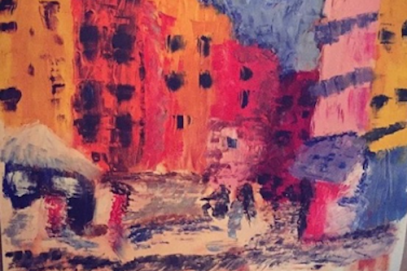 Revive Wellness Open House and Art Exhibition
Date:
Saturday, May 11, 2019 -

11:00am

to

5:00pm
Description:
Stop by Revive Wellness Center Saturday May11thfor the 2019 Westville ArtWalk starting at 11 AM! Show casing oil paintings by Revive's very own Dr. Stephanie Preston. Revive will be hosting an open house, and meet and greet with our Naturopathic Doctors until 5:00pm! An acupuncture demonstration will be given by our medical director, Dr. Jennifer Pierre at 12pm, and light refreshments will be offered along with plenty of information to go around on how we can help you address your health care concerns! Doors open at 11:00AM, Revive Wellness Center, 867 Whalley Avenue !


Revive Wellness is a center for healing that has all the resources for revitalization of the body, mind and spirit in one location. They are dedicated to improving health and wellness through natural healing and integrative therapies in a nurturing environment. Revive Wellness Center specializes in integrative family practice, acupuncture, and naturopathic & functional medicine.
Dr. Preston (And Featured Artist):
Dr. Stephanie Preston is a naturopathic physician licensed in the state of Connecticut.  She has also completed her Masters in Acupuncture.  She obtained her naturopathic doctorate (ND) at the University of Bridgeport in Bridgeport, Connecticut where she also received her Bachelor of Science in Biology with specialized research in toxicology and clinical studies at St. Vincent's Hospital.
Dr. Preston's specialties include Women's health (specifically prenatal and postpartum health), pediatrics, emotional disorders and natural weight management.  When she is not seeing patients, Dr. Preston loves spending time with her dog London, yoga, oil painting and quality time with her family.  She is currently finishing her masters in Chinese Herbology.
Dr. Pierre  (acpuncture demo): 
Dr. Pierre's specialties include women's health (prenatal, fertility, hormonal imbalance, menopause and PCOS), thyroid disease (Hashimotos), chronic diseases, autoimmune diseases, stress/anxiety and natural hair/skin care.
When she is not seeing patients, Dr. J enjoys prayer and meditation, traveling, fashion, reading, and cooking vegetarian meals that make meat lovers reconsider.  She is also the host of Seeking Wellness a local radio show on WPKN 89.5FM in Bridgeport, CT.  You can listen in on the 4th Saturday of every month from 9-10 AM.
Dr. Palacios (another one of doctors who will be here for meet & greet throughout the day Saturday, he specializes in cardiovascular, men's health, and does craniosacral therapy)Dr. Javier Palacios is a naturopathic physician licensed in the state of Connecticut. He specializes in Craniosacral Therapy (CST) and botanical medicine.  He obtained his naturopathic medicine (ND) degree at the University of Bridgeport in Bridgeport, Connecticut.  His background in science derives from his Bachelor of Science in Biology at Millersville University in Pennsylvania.  With his Latin-American background, Dr. Palacios is open to receive new patients who prefer to or speak only Spanish.  When he is not working, Dr. Palacios likes to spend time by the sea at his current residence in Milford, CT.  He practices Zen meditation, posts on his YouTube channel and Facebook page regarding healthy practices and daily reflections.