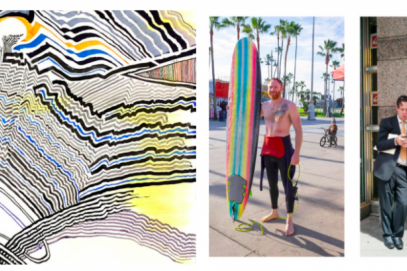 Robert Bienstock, Parallel Worlds …. and … Hank Paper, L.A. Color and East Coast Weather
Date:
Thursday, May 13, 2021 - 12:15pm

to

Sunday, June 20, 2021 - 5:00pm
Description:
Hank Paper is a street photographer, who "captures what otherwise escapes notice." In an artist statement, Paper states: "Shooting for warmth and wit within composed geometries, the images — while sometimes amusing — transcend terse irony to turn the real into the surreal and the quotidian into the quintessential." Paper's images are often inspired by his travels, with this most recent collection drawing parallels between the light and lifestyles of east and west coasts.
On the other side of the gallery, Robert Bienstock's multimedia artworks create almost a microcosmos with parallel lines. In an artist statement, Bienstock states: "The worlds are my constructions, but in creating them, I feel more like an explorer: the lines take on a life of their own. Their patterns are animate; they play out and interact in unplanned ways. They form surfaces that surprise me; creation becomes an intimate act of discovery. I invite you to linger in these worlds and see what you can discover as well!"
The following events — both in person, and virtual — are planned:
SalonThrive — a virtual space for creative discussion — Sunday, May 16th at 5pm: SalonThrive is a virtual gathering place for art discussion and discovery on the zoom platform. With each new episode, a different local CT-based artist broadcasts live from their studio. All who log-on and gather 'round have the opportunity to explore the artist's studio, their work, ideas and influences, in an intimate and unique studio backdrop. This month, join KLG exhibiting artists Hank Paper and Robert Bienstock in discussion about their current exhibits on view in the gallery. Participation is free and open to all, but RSVPs are required. Click HERE to register. You will only need to register once for the series. This series is presented in partnership with ArtEcon Initiative.
Date Night at KLG and Amaru – Thursday June 10th and Friday June 11th, 5-7pm: Grab your love (or your friend!) and hit the village! First you'll visit KLG for an intimate tour of our current exhibitions, and walk away with a memento of the experience. Getting a culture fix will undoubtedly stir up your appetite, so then you'll walk over to Amaru, a Peruvian Bistro down the road. You can choose to eat-in (order 2 drinks/ 2 apps) or take-away (3 chef-selected apps). $30 per pair/couple. Sign up HERE.

Closing Receptions with the Artists — Saturday, June 12th, and Sunday, June 13th, 3-5pm: Maximum capacity limits will be set, and guests will have an opportunity to make reservations in advance. Stay tuned for details!
Hank Paper has documented contemporary culture and society in the streets of North America, The United Kingdom, Western and Eastern Europe, the Middle East and Cuba. His many solo exhibitions include those at The African American Museum in Philadelphia; Hebrew University in Jerusalem, Israel; the High Point Historical Museum in North Carolina; The Jewish Museum of New Jersey; the Morgenthal-Frederics Gallery, the Tamarkin Leica Gallery and The Harlem School of the Arts in NYC. Notable group exhibitions include many reappearances in juried exhibitions at The New Britain Museum of American Art; The Woodstock Museum in New York; and The Mattatuck Museum, the Fairfield Museum, and the Carriage Barn Art Center in CT. His awards and honors include Honors at the 2020 Fairfield Museum Images Regional Juried Exhibition; the 2014 Betsey Hurwitz-Schwab Award from the Will's Survey's National Juried Exhibition in Maryland; and the 2010 (2nd Prize) Ridgefield Art Guild Juried Exhibition, to name a few. He also received a 2006 Grant from the Connecticut Commission on Culture and Tourism and subsequently appeared in the exhibit of grant recipients at the Gallery at Constitution Plaza in Hartford. He is a member of the Connecticut Academy of Arts and Sciences, and his photography has been spotlighted twice in Art New England. www.hankpaper.com 
Robert Bienstock is a Connecticut artist.  He has been creating abstract drawings and paintings since 2011. His work explores patterns composed of near-parallel lines that curve and curl. He works with ink, paints and prints on paper, canvas, and panel. Bienstock has shown his art at River Street Gallery in Fair Haven CT; Brooklyn Waterfront Artists Coalition in Red Hook Brooklyn (Certificate of Recognition); Catalyst Gallery in Beacon NY; City Lights Gallery in Bridgeport CT; the Blake Hotel in New Haven CT; New Haven's City Wide Open Studios; and various office buildings in south central Connecticut. When not creating lines, he provides in-house legal support to Yale University's research scientists, negotiating contracts and handling compliance issues. www.Robertbienstock.com