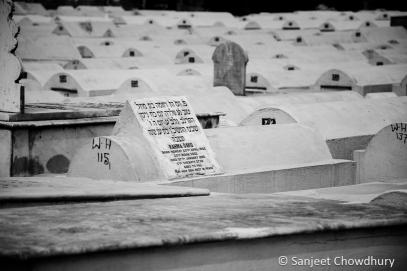 Sanjeet Chowdhury, Photographs of Jewish Calcutta
Date:
Saturday, February 22, 2020 -

12:45pm

to

2:00pm
Location:
85 Harrison St at Whalley Ave
Description:
Jael Silliman, who was born in Calcutta into a Jewish Baghdadi family, will lead a discussion about that Jewish community and the current exhibition, Sanjeet Chowdhury, Photographs of Jewish Calcutta. She has written on Jewish Calcutta, including Jewish Portraits, Indian Frames: Women's Narratives from a Diaspora of Hope (2001), about four generations of her family. Silliman recently developed the digital archive Recalling Jewish Calcutta.
Although only about twenty Jews currently reside in Kolkata (as it is now known), the city retains the traces of Jewish culture. Many monuments, including a cemetery in North Kolkata, where gravestones are occasionally written in three languages, remain and are cared for by non-Jewish Bengalis, many of them Muslims. Nahoum's, the Jewish bakery, remains one of the city's favorites.
Sanjeet Chowdhury's photographs illustrate the diversity, poignancy and history of this Jewish culture. An independent photographer, filmmaker, and curator committed to representing the everyday, he is based in Kolkata. His photographic works have been exhibited in London, New York, Basel, and other cities worldwide. His video arts and films have been screened at international festivals in Washington, Berlin, Tel Aviv and Stockholm. He is currently involved in several book projects, among them an anthology of the culinary history of Bengal.
Sanjeet Chowdhury, Photographs of Jewish Calcutta, is on exhibition in the BEKI Art Gallery until March 7. Gallery hours by appointment only; please contact the BEKI office at (203) 389-2108 x114.