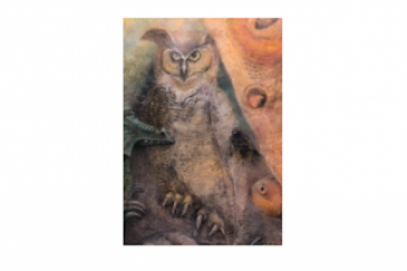 Tom Edwards, "Dreams and Shadows"
Date:
Saturday, February 15, 2020 -

3:00pm

to

6:00pm
Description:
Tom Edwards takes a look at what goes unnoticed in Dreams and Shadows. The artist states that his "primary concern is the visual development of images that describe dream-related memory and a nocturnal atmosphere."Presenting five triptychs developed in the realm of twilight and moonlight, and another created around memories, Edwards pairs these with a group of etchings printed on plaster that are related to the current political climate around border walls. The created dichotomy begs the viewer to consider the multifaceted darkness the artist is investigating on both a personal and national scale.
Opening Reception: Saturday, February 15th, 3-6pm, with Artist Talks at 3pm
Tom Edwards received a MFA from Yale University School of Fine Arts, majoring in painting and printmaking. He was awarded the Elizabeth Canfield Hicks Honorary Award in Drawing. He received a MA from Kansas State University, majoring in drawing and printmaking, where he also received a bachelor of architecture degree. Tom's work has been exhibited extensively in solo and group exhibits worldwide, and is held in numerous collections such as: Metropolitan Museum of Art (NYC), Library of Congress (DC), National Museum of American Art (DC), Smithsonian Collection (DC), The New Britain Museum of American Art (CT), Baltimore Museum (MD), and The Boston Printmakers Permanent Collection (MA), to name a few.