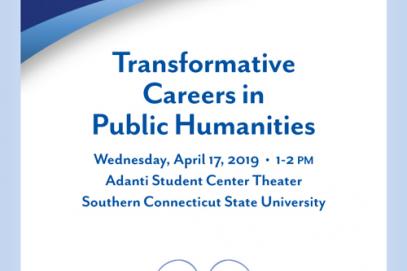 Transformative Careers in Public Humanities
Date:
Wednesday, April 17, 2019 -

1:00pm

to

2:00pm
Location:
Adanti Student Center - Theater
Southern Connecticut State University
501 Crescent St.
Description:
A roundtable discussion with innovative leaders of arts, humanities, service, and advocacy organizations in greater New Haven, aimed at helping build sustainable partnerships between university students and the greater New Haven community. The goal of the event is two-fold: to educate students about the wide range of opportunities to work for the common good in greater New Haven and to highlight the diverse interests and talents students can bring to the task.
Seven outstanding community leaders will discuss their work, how they came to do it, and how students can contribute to the mission of their organization. SCSU student-ambassadors will facilitate a discussion with the participants, which everyone will be invited to join. A reception at Connecticut Hall will follow, providing an informal occasion for students and participants to meet and continue the conversation.
Panelists will include:
Patrick Dunn, Executive Director, New Haven Pride Center
Alexine Casanova: Director of Case Management, IRIS (Integrated Refugee and Immigrant Services)
Elsie Chapman: Vice Chair, Board of Directors, International Festival of Arts and Ideas
Erik Clemons, President and CEO, Connecticut Center for Arts and Technology
Louis Perno: Executive Director, Literacy Volunteers of Greater New Haven
Lynne Bonnett: President, Greater New Haven Green Fund
Dr. Marian Evans: Board of Directors, Greater New Haven Green Fund