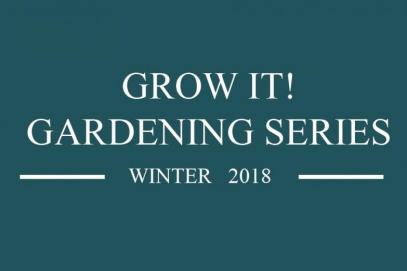 Grow It Gardening Workshops
Date:
Repeats every week every Saturday until Sat Mar 24 2018 except Sat Feb 17 2018, Sat Mar 03 2018, Sat Mar 17 2018.
Saturday, January 27, 2018 - 10:00am

to

Saturday, March 24, 2018 - 12:00pm
Location:
Neighborhood Housing Services of New Haven
333 Sherman Ave.
Building #3
Description:
Join Rachel Ziesk, Advanced Master Gardener, to learn everything you need to start a successful garden in the spring! 
$20/class or $100/series. Scholarships available 
Classes are held from 10:00 a.m. -12:00 p.m. at Neighborhood Housing Services of New Haven, (333 Sherman Avenue, Building # 3, New Haven)
For more information or to register visit: https://gigs2018.eventbrite.com or call (203) 562-0598 x231
Classes include:
Soil and Garden Planning -- January 27
The most important component for a successful garden is soil health. Learn how to make and keep your soil healthy and how to plan your garden to get the most out of your space in any season.
Cool Weather Crops -- February 3
Start your garden as soon as the snow is gone! Cool weather crops don't mind the cold and give you a jump on the season. This class covers how to plant these crops and manage the pests and diseases that affect them.
Warm Weather Crops -- February 10
Learn about how to make the most out of your growing season including which crops are best started indoors, what can be directly seeded into the ground, and the conditions and fertilizers each crop prefers. Also covered are how to fight pests and diseases organically.
Seed Starting and Composting -- February 24
This class teaches you when and how to start growing indoors using lights and water. Identify common problems with seed starting and learn how to keep a compost pile that will keep your garden soil healthy and give vital nutrients to your plants. Participants will plant a six pack of seedlings to bring home.
Perennial Vegetables and Fruits -- March 10
This class features vegetables, fruits, and herbs that are planted once and return year-after-year, including asparagus, blueberries, thyme, and many more. Learn how to grow and fight pests and diseases of these long lived, under utilized garden plants.
Native and Invasive Plants -- March 24
Learn to identify native and invasive wildflowers and weeds including which are edible or useful for your garden and which need to be dealt with so they don't spread and destroy your crops.