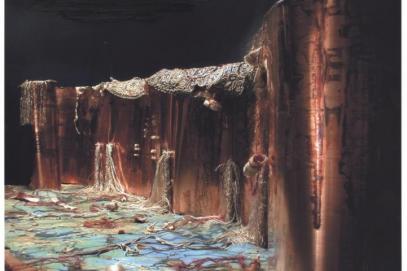 Artist's Talk with Wendy Rabinowitz
Date:
Saturday, May 5, 2018 -

12:45pm

to

2:00pm
Location:
85 Harrison St at Whalley Ave
Description:
Let There Be Light and There Was Light, Yahi ohr v'yahi ohr, is a series of dynamic weavings inspired by Jewish prayer, story, and tradition. Rabinowitz describes her artwork as "weaving/mixed media assemblages that are deeply rooted in the power of Judaism, nature, and the sacred responses of the spirit." Descendant from both Sephardic Rabbis and women who were members of a large weaving community in Bielsk, Poland, Rabinowitz was educated as an artist at the Art Institute of Chicago and in Jewish thought by several rabbis as well as at the Kabbalah Centre in Boston. Her seminal work, "Women at the Wall: A Call for Peace," part of the BEKI exhibit, was featured in the United Nationsexhibit "Miracles of Peace" in 2003 and 2007. Rabinowitz, who leads workshops on the power ofJudaic art, rituals and the creative process, will talk about the exhibit following the weekly Shabbat Kiddush luncheon. Sabbath rules will be observed.