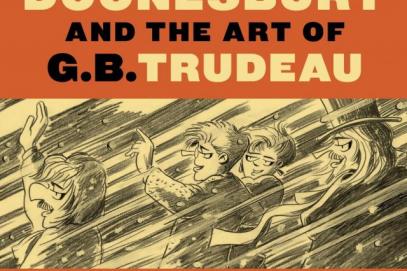 Cartooning in General and Specifically
Date:
Thursday, July 18, 2019 -

7:00pm

to

9:00pm
Description:
For the first conversation in a two-part series, The Art of Collaboration, designer George Corsillo is joined by two longtime associates – cartoonist and historian Brian Walker, and editor David Stanford – for a discussion about cartooning in general, with a specific focus on the book, Doonesbury and the Art of G.B. Trudeau (2010), that the trio worked on together. Corsillo's retrospective, More is More, will be on view in the gallery.
Tickets are $15 (+ tax), and space is limited, so pre-registration is encouraged: https://www.eventbrite.com/e/cartooning-in-general-and-specifically-tickets-63796576277.
Brian Walker has a diverse background in professional cartooning and cartoon scholarship. Since 1984, he has been part of the creative team that produces the comic strips Beetle Bailey and Hi and Lois, both of which were created by his father Mort Walker. Brian was a founder and former director of the Museum of Cartoon Art, where he worked from 1974 to 1992.  He has written, edited or contributed to over forty books on cartoon art, as well as numerous exhibition catalogs and magazine articles. His most well-known books, The Comics – Since 1945, and a companion volume, The Comics – Before 1945, were published by Abrams in 2002 and 2004 respectively. Brian Walker taught cartoon history at the School of Visual Arts from 1995 to 1996. He has served as the curator for seventy cartoon exhibitions, including three major retrospectives, The Sunday Funnies: 100 Years of Comics in American Life, at the Barnum Museum in Bridgeport, Conn., 100 Years of American Comics at the Belgian Center for Comic Art in Brussels and Masters of American Comics at the Hammer Museum and Museum of Contemporary Art in Los Angeles. He was Editor-in-Chief of Collectors' Showcase magazine from 1997 to 2000 and is currently the Chairman of the Connecticut Chapter of the National Cartoonists Society.
David Stanford is an independent editor working with nonfiction, fiction, humor and cartoons. He spent 20 years in New York trade book publishing, the second half as a senior editor at Viking Penguin, and 21 years on his own. He has worked with authors ranging from Ken Kesey, William S. Burroughs, and the Estate of Jack Kerouac to Don Dunphy, Stewart Brand, and Alice Notley to Charles Schulz, Art Spiegelman, and G.B. Trudeau. Over the past 40 years he has worked with Garry Trudeau on innumerable fascinating projects, and has served as Duty Officer of the Doonesbury Town Hall since its launch in 1995. He and his family live in rural New York.
George Corsillo is the co-owner and art director of Design Monsters, a design studio in Westville Village, New Haven, CT. George studied Graphic Design at Pratt Institute in Brooklyn NY where he earned his BFA. His first job out of Pratt was at Warner Paperback Library. From there he moved to Paul Bacon Studio where he was exposed to all of the major New York publishing houses. He had been Paul's assistant for three years when he moved to Los Angeles to work for Gribbitt! Design Studio. At Gribbitt! he worked with major record labels (RCA, Casablanca, Soul Train, Columbia, etc.) designing album packages such as Grease, The Original Movie Soundtrack. After moving back to the New York area, George started Design Monsters, designing book jackets and interiors –– Less Than Zero by Brett Easton Ellis; Famous for 15 Minutes, a biography of Andy Warhol by Ultra Violet, Lonesome Dove, the Pulitzer Prize-winning novel by Larry McMurtry (as well as the logo and title graphics for the TV mini-series.) Album package clients included: Jefferson Starship, Dolly Parton, Yoko Ono, Pat Benatar, and Bon Jovi. Luther Vandross and John Mellencamp were both musicians with whom he collaborated for many years, creating posters, tour merchandise, videos, etc. as well as designing over a dozen album covers for each of them. Since moving to New Haven, George has focused his career on posters, products, books and typography. Currently, he is the graphic designer for Garry Trudeau's, Doonesbury – he colors the Sunday comic each week – designing his books and posters. He has also had the opportunity to design three exhibition books – War Games; History; and War, Myth, Desire – for internationally renowned photographer David Levinthal.
** This conversation is made possible in part by ArtEcon Initiative, whose 2019 programs are made possible with support from the Pincus Family Foundation, and the Department of Economic and Community Development, CT Office of the Arts, which also receives support from the National Endowment for the Arts, a federal agency. **