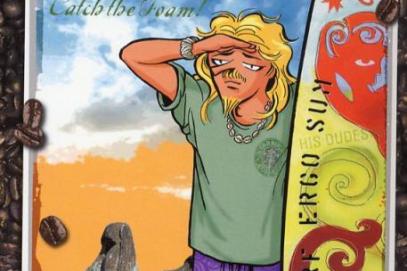 Doonesbury@Starbucks: A Collaboration
Date:
Thursday, July 25, 2019 -

7:00pm

to

9:00pm
Description:
Garry Trudeau and George Corsillo discuss 35+ years of working together, focusing particularly on a two-year project for Starbucks from 1999-2001. During this time, Trudeau and Corsillo produced a wide variety of Doonesbury-themed products, from posters to mugs to figurines, that were sold across the country in support of local organizations working to boost literacy skills in their communities. Through this project, the team discovered new ways of producing Doonesbury, moving the comic strip into today's iconic style.
Tickets are $25 (+ tax), and limited, so preregistration is highly encouraged: https://www.eventbrite.com/e/doonesburystarbucks-a-collaboration-tickets-63828407485.
In the spirit of the project's original intent, a portion of the proceeds from ticket sales will go to benefit New Haven Reads, whose mission is to increase the literacy skills of children by providing individually tailored one-on-one after school tutoring, educational family support, and a community book bank. The event will also feature a silent auction in further support of this local organization.
This is the second conversation in a two-part series, The Art of Collaboration, coinciding with Corsillo's retrospective, More is More, on view at Kehler Liddell Gallery, July 5 - August 18, 2019.
Garry Trudeau, social observer and American cartoonist, is best known for his creation of the Pulitzer Prize-winning comic strip Doonesbury, and has been drawing electoral commentary for nearly a half-century. Beginning upon his graduation from Yale University in 1970, Doonesbury is now syndicated to 1,000 daily and Sunday newspapers worldwide and is accessible online in association with The Washington Post. In 1975, Trudeau became the first comic strip artist to win a Pulitzer, traditionally awarded to editorial-page cartoonists. He was also a Pulitzer finalist in 1990, 2004, and 2005. Other awards include the National Cartoonist Society Newspaper Comic Strip Award in 1994, and the Reuben Award in 1995. In 1993, Trudeau was made a fellow of the American Academy of Arts and Sciences. Wiley Miller, fellow comic-strip artist responsible for Non Sequitur, called him "far and away the most influential editorial cartoonist in the last 25 years." Trudeau has contributed to such publications as Harper's, Rolling Stone, The New Republic, The New Yorker, New York Times, and The Washington Post. In 2013, Trudeau created, wrote and co-produced Alpha House, a political sitcom starring John Goodman that revolves around four Republican U.S. Senators, who live together in a townhouse on Capitol Hill. While writing Alpha House, Trudeau put the daily Doonesbury into rerun mode. On March 3, 2014 the "Classic Doonesbury" series began, featuring approximately four weeks of daily strips from each year of the strip's run. He continues to produce new strips for Sundays.
George Corsillo is the co-owner and art director of Design Monsters, a design studio in Westville Village, New Haven, CT. George studied Graphic Design at Pratt Institute in Brooklyn NY where he earned his BFA. His first job out of Pratt was at Warner Paperback Library. From there he moved to Paul Bacon Studio where he was exposed to all of the major New York publishing houses. He had been Paul's assistant for three years when he moved to Los Angeles to work for Gribbitt! Design Studio. At Gribbitt! he worked with major record labels (RCA, Casablanca, Soul Train, Columbia, etc.) designing album packages such as Grease, The Original Movie Soundtrack. After moving back to the New York area, George started Design Monsters, designing book jackets and interiors –– Less Than Zero by Brett Easton Ellis; Famous for 15 Minutes, a biography of Andy Warhol by Ultra Violet, Lonesome Dove, the Pulitzer Prize-winning novel by Larry McMurtry (as well as the logo and title graphics for the TV mini-series.) Album package clients included: Jefferson Starship, Dolly Parton, Yoko Ono, Pat Benatar, and Bon Jovi. Luther Vandross and John Mellencamp were both musicians with whom he collaborated for many years, creating posters, tour merchandise, videos, etc. as well as designing over a dozen album covers for each of them. Since moving to New Haven, George has focused his career on posters, products, books and typography. Currently, he is the graphic designer for Garry Trudeau's, Doonesbury – he colors the Sunday comic each week – designing his books and posters. He has also had the opportunity to design three exhibition books – War Games; History; and War, Myth, Desire – for internationally renowned photographer David Levinthal.
** This conversation is presented in part by ArtEcon Initiative (www.ArtEconInitiative) whose 2019 programs are made possible with support from the Department of Economic and Community Development, CT Office of the Arts, which also receives support from the National Endowment for the Arts, a federal agency, and the Pincus Family Foundation. **