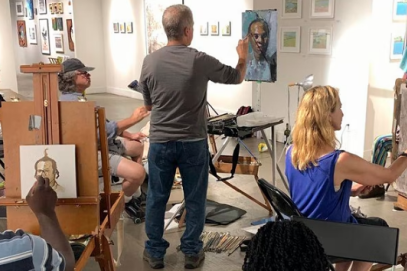 FIRST FRIDAY FIGURE/PORTRAIT SESSION
Date:
Repeats every month on October, November, December on the first Friday until Fri Dec 02 2022.
Friday, August 5, 2022 - 6:30pm

to

Friday, December 2, 2022 - 9:30pm
Description:
Friday, 6:30 - 9:30 First Friday Figure: Come work in a fun group drawing session using a vintage clad model courtesy of Vintanthro. 3 hr pose with warm up sketches. Dates 2022 : September 2 October 7 November 4 December 2.

This workshop is presented by ArtEcon Initiative, whose mission is to produce low cost, accessible arts and community programs in the Westville-West Rock neighborhoods of New Haven, CT. Open to residents of all locations. Workshops made possible with support from the CT Humanities (CTH) SHARP (Sustaining the Humanities through the American Rescue Plan), The Pincus Family Foundation, and the CT Dept of Economic Development of the Arts.