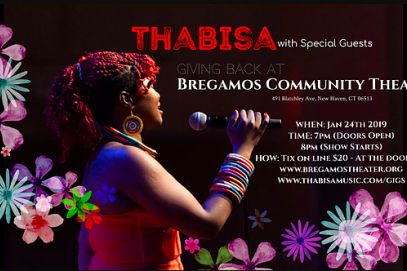 Giving Back At Bregamos Ft. Thabisa
Date:
Sunday, February 24, 2019 - 8:00pm
Location:
Bregamos Community Theater
Description:
When everything else tries to divide us, music always finds a way to bring us closer together. Let's meet at Bregamos Community Theater for an unforgettable night of song. Thabisa and her talented friends are going to take you back in time bring and back again with new sounds. Bring a friend or two so you can share the experience of love and township stories. This South African born songstress will pull you in as she cruises in some of her jazzy intimate tunes from her albums and set you on fire with her Afro soul and electrifying voice. This sensational singer/songwriter with a sultry voice and multi-lingual performer is a force to be reckoned with and you don't want to miss this one.