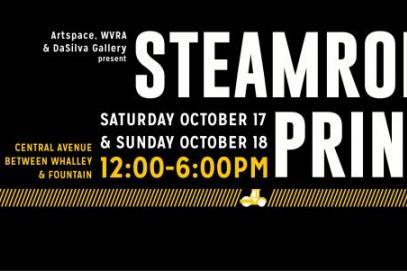 Steamroller Printing & CWOS comes to Westville
Date:
Saturday, October 17, 2015 - 11:30am
Location:
Artspace/WVRA/DaSilva Frame Shop
Description:
Westville Village will be closing down lower Central Ave. during the "Transported Weekend" of Artspace's 18th annual City-Wide Open Studios festival, which will take place on October 17 and 18 from 12-6pm. Local Artists and two student groups are creating large-scale relief printing blocks (woodcut) in advance of printing day with the help of artist, teacher, and print-maker Roxanne Faber Savage.

With community support, the selected artists will produce 3 prints, using an industrial steamroller truck. Artists will receive paper on which to produce the print, but may opt to work on another material. One print will benefit the Westville Village Renaissance Alliance, one will benefit Artspace, and one will remain with the artist for his/her portfolio. 

The public project is equally as exciting for participating artists as it is for volunteer assistants and onlookers. Everyone will be able to watch the works come into fruition under the power 
of the extra-large steamroller wheel-- from the application of the paint to, to the setting of the wood block, to the great reveal! Artworks will hang to dry on a nearby wall for the run of the weekend so that everyone can see what is made.

The project is a collaboration between Artspace, The Westville Village Renaissance Alliance (WVRA), and The Frame Shop and DaSilva Gallery.

At the conclusion of the project, Artspace will exhibit each steamroller print in their galleries from November 6-19, 2015. Artspace will celebrate Westville's incredible creative initiative with a reception for the artists on Friday, November 6 from 5-8pm. The event is free and open to the public, and will feature an Artists Talk at 6pm.

Saturday: Corina S. Alvarezdelugo, Violet Harlow, Luke Hanscom. Barbara Harder, Mary Lesser, Liz Pagano, Michael Quirk
Sunday: Karen Dow, Yvonne Gordon, Allan Greenier, Patrick Lawrence, Sabrina Marques, Miguel Trelles.