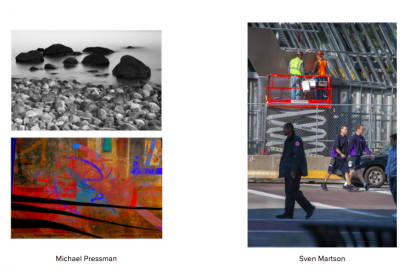 Surface Rising, by Michael Pressman, and New Documents, by Sven Martson
Date:
Thursday, September 10, 2020 - 11:00am

to

Sunday, October 25, 2020 - 2:00pm
Location:
1395 Chapel Street
873 Whalley Aveunue
Description:
September 10th - October 25th, 2020: Kehler Liddell Gallery (KLG) presents two exhibitions of photography: Surface Rising, by Michael Pressman, and New Documents, by Sven Martson. The gallery will be open every Friday and Saturday, 11am-2pm, as well as by appointment. See below for special event details. In his first solo exhibition at KLG, member artist Michael Pressman investigates the differences, and perhaps more profoundly, the similarities, between realistic and abstract photography. With this series of diptychs, Pressman states: "Each pair is presented as if one click of the camera shutter captured both. Under the surface, they are alike — not abstract, not realistic. Simply, how I see the world."
On the other side of the gallery, Sven Martson presents his own unique way of seeing. In an artist's statement, Martson explains his work as a collection of significant moments: "My work is a corollary to my movements through time and space. I photograph scenes of personal significance as they occur where I happen to be. It is my hope to discover and record meaningful moments in life through the process and craft of photography." The question now becomes, what is the takeaway for the viewers of these two artists' work? Are the experiences like a good memoir? An intimate glimpse into the life journeys of one man? Or even an experience akin to trying on the actual eyes of another? Or can we see pieces of ourselves in the moments of another? Perhaps the universal beauty of art is the way it can catalyze intimate connections to one another, and to ourselves. In lieu of a traditional opening reception, we have planned several special events planned. As follows:
(Double) Date Night(s): Thursday, September 10th and Friday, September 11th, 5-7pm
Grab your love (or your friend!) and hit the village! You could even double up with another couple! First, Muffy Pendergast, Assistant Director at KLG, will meet you at the gallery to tour you through the current exhibitions, and you'll even walk away with a memento of the experience. Next, you'll head over to Manjares Bar Tapas, where Mixologist Alex Montes will offer his art-inspired cocktail, as well as one tapas alfresco.  $30 per pair/couple covers 30-minutes in the gallery for up to 4 people at a time, 2 drinks, and one tapas selection. Masks in the gallery a must.
SalonThrive, featuring Sven Martson (9/20) and Michael Pressman (10/4) at 5pm
Join us for this insider's look into each of these photographer's current show. Presented in partnership with ArtEcon Initiative, SalonThrive is the gallery's virtual gathering place for art discussion and discovery on the Zoom platform, featuring a different local CT-based artist host, or hosts, each week. All who log-on and gather 'round have the opportunity to explore the artist's studio, their work, ideas and influences, in an intimate and unique studio backdrop. For this special mini-series of events, each artist will take a turn interviewing the other.
Sven Martson Sven Martson received his BA from Syracuse University. After further studies, he met Walker Evans and worked under his direction, making prints from Evans' negatives. After Evans' death, Martson continued to print for the Evans estate. Martson's work has been exhibited in solo and group exhibits including: National Association of Independent Schools, Washington DC; Kiek in de Kök Museum Gallery, Tallinn, Estonia; The Connecticut Open Real Art Ways, Hartford CT; Artspace, New Haven CT; Mattatuck Museum, Waterbury CT; Connecticut State Capitol, Hartford CT; Shoreline Alliance for the Arts, Guilford CT; Exposure Gallery, New Haven CT; Jennifer Jane Gallery, New Haven CT; Schelfhaudt Gallery, University of Bridgeport; and the Wadsworth Atheneum.
Michael Pressman began photographing the people, streets, and landscape of his native Brooklyn, New York when he was eight years old. His love of photography has endured and expanded to include nature, wildlife, abstract, and most recently photo-based digital art. He has exhibited his work widely in New York and Connecticut. Michael spent more than 30 years as a national broadcast journalist for both ABC News and NBC News, on programs that included ABC News 20/20, Dateline NBC, and the Today show. Mostly working in "long-form" —news magazines and documentaries — as a producer, director, and writer, he is the recipient of the Overseas Press Club's Edward R. Murrow Award, Emmy, and Cine Golden Eagle awards.