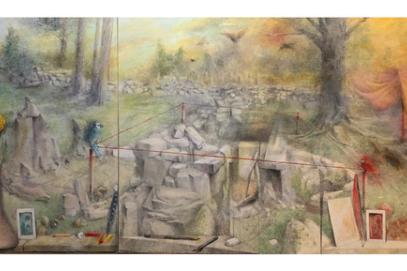 Tom Edwards: Backyard Archeology Sean Patrick Gallagher: What She Left and What She Kept
Date:
Thursday, May 26, 2022 - 11:00am

to

Sunday, June 26, 2022 - 5:00pm
Location:
873 Whalley Avenue
Unit 1
Description:
Two artists work to create a place of memory, observed and imagined,  romantic and revered at Kehler Liddell Gallery
Tom Edwards: Backyard Archeology Sean Patrick Gallagher: What She Left and What She Kept
WESTVILLE NEW HAVEN, May 26 – June 26, 2022.  Tom Edwards excavates his backyard of ideas and observations in Backyard Archeology, while Sean Gallagher paints and draws a tribute to his grandmother and heritage of West Cork, Ireland in What She Left and What She Kept. The two exhibits will have an Opening Reception: Thursday, May 26, 6-9pm and a Closing Reception: Sunday June 26, 3-5pm with Artist Talk at 3pm.
For Edwards, "backyard" serves as a physical space to observe and draw from while also searching his distant memory for alterna3ves beyond drawings of his surroundings. "The development of each group of subjects formed when I considered a large generally organized format for the en3re presenta3on of the different pieces," states Edwards. His final setup includes twenty pieces arranged in three horizontal rows. This arrangement references an altar predella in its construct. The first group consists of black and white drawings in black pencil and ink, made directly from observa3on while siSng in different locations in my backyard. The second row contains four larger pieces that deal with the "archeological" dream. It expands the view of the backyard inward and outward from multiple points of view and disassociated visions. Finally, the upper row consists of eight nocturnal spaces that suggest an internalized escape from reality, presenting atmospheric spatial form and color associations. Also included is a 1⁄4 scale group called "1963", developed as an extension of drawings that began in 1963-66 in a high school mechanical drawing class.
Gallagher's grandmother, Sarah Gallagher (née Roycroft), emigrated in 1920 to NYC and then to Chicago with his grandfather, Patrick Gallagher, from County Mayo, due in part to the tensions between the IRA and supporters of Great Britain in West Cork; specifically, since they had a mixed-marriage (Protestant and Catholic).
Gallagher paints images of areas his grandmother most likely saw in her lifetime, adding accented color as a means of idealizing the specific places, a version of memory rather than actuality. The images offer a contemporary escape from the limitations of pandemic restrictions, to a more colorful, romantic, fantastic, and primordial place. "Just as my grandmother retained images of her ancestral land of West Cork in her mind, modifying it, over scores of years," states Gallagher. Having visited these places several times earlier, he regrets being unable to return during these last two years of Covid. What She Left and What She Kept is dedicated to Sarah Gallagher. hcp://www.seanpatrickgallagher.com

 873 Whalley Ave, New Haven CT 06515