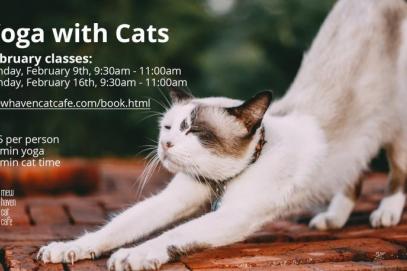 Date:
Sunday, February 9, 2020 - 9:30am
Description:
Did someone say Cat Yoga? We're back with two classes this month! You'll have a 60-minute yoga session in the cat lounge, followed by 30 minutes of dedicated cat time. Please bring your own mats and towels. Reserve your spot meow! (14 spots available, yoga class is for ages 15+)

If you can't make these dates, never fear! We'll have more next month!

About our yoga instructor: Kristin Longenecker has been practicing yoga for over 10 years; she earned a 200 hour RYT certification in 2016 from Balance Yoga in NJ and has been teaching ever since. More than anything, Kristin believes in teaching people and not poses. She loves encouraging and motivating students by bringing a light, fun energy into her classes and helping people find joyful movement in their bodies. In her spare time, she enjoys hiking, spending time with her husband and cats, sharing great food and craft beer, and watching pro football. She is thrilled at the opportunity to combine two of her favorite things - cats and yoga - at Mew Haven Cat Cafe!