Submitted by noe on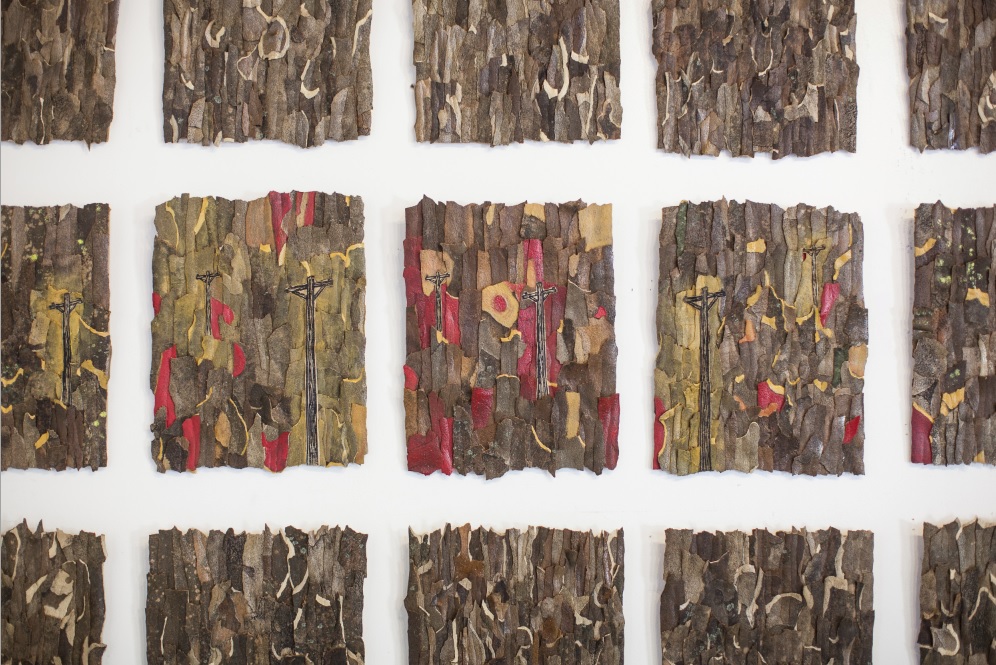 A Study in Landscapes: Two New Exhibits at Kehler Liddell Gallery
Two new exhibits at Kehler Liddell Gallery present a divergent study in landscapes: Momentary Landscapes by printmaker and collage artist Liz Antle-O'Donnell, and Hello, I Must Be Going: American Pastoral by photographer Hank Paper. The exhibits run from Thursday, June 4 through Sunday, July 5, with an Opening Reception on Sunday, June 7 from 3:00 - 6:00 p.m. Momentary Landscapes: This exhibit investigates the conversation between natural and manmade landscapes, using telephone polls, electrical towers, and street lights as the primary subjects. Through a series of linoleum block prints and various forms of collage, Liz Antle-O'Donnell reveals how our created landscapes are becoming more natural than nature itself. "Many of these works possess an intended level of humor," she explains. "The collection invites viewers to reflect upon structures and systems that are so integrated into our daily lives that we rarely take notice of their inherent implications." An Elm City native, Antle-O'Donnell has been an active member of the New Haven arts scene as a teacher, arts administrator and participating artist for close to a decade. Though primarily a self-taught artist, she studied printmaking and studio arts at New York University (where she earned her BA in English and American Literature), Paier College of Art, and Rhode Island School of Design. Additionally, she spent a year in Los Angeles apprenticing with several internationally recognized artists. Her work has been exhibited from coast to coast, including in such local venues as Artspace, Seton Gallery and Creative Arts Workshop.
Hello, I Must Be Going: American Pastoral: In this collection of contemporary pastoral photographs, Hank Paper depicts the effect of pristine landscapes on behavior and society. Featuring such locales as the Hudson River Valley, Pennsylvania Amish farmlands, the Catskills, the Adirondacks, New England, and the American West, Paper presents an inter-play between human (or non-human) stories against a strange and beautiful background. In doing so, he captures a serendipitous story of America today, its beauty, mystery, heart, and irony. "This is America as I see it," he explains. "What we are losing and what we have to gain, a hint, perhaps, of what came before and what comes after. Paper is an award-winning photographer, who has documented contemporary culture and society in the streets of North America, the United Kingdom, Western Europe, the Middle East and Cuba. His many solo exhibition venues have included the African American Museum in Philadelphia; Hebrew University in Jerusalem, Israel; the High Point Historical Museum in North Carolina; The Jewish Museum of New Jersey; the Morgenthal-Frederics Gallery, the Tamarkin Leica Gallery and The Harlem School of the Arts in New York. A resident of Hamden, Paper has exhibited extensively in Connecticut, where he is a member of Kehler Liddell Gallery and the Silvermine Guild in New Canaan, CT. His work can be seen at www.hankpaper.com. Antle-O'Donnell and Paper are two of 25 member artists at the Kehler Liddell Gallery. Founded in 2003, the Gallery has grown to represent some of Connecticut's highest achieving mid-career and emerging artists in a full range of media, from painting, printmaking and works on paper, to photography and sculpture. The Gallery is dedicated to representing critical perspectives that challenge and illuminate our culture and enrich our aesthetic experience, and is committed to establishing New Haven as an important center of arts and culture. Its programs revel in the excitement of cross discipline collaborations—including projects with musicians, theatre troupes, filmmakers, authors, dancers, creative entrepreneurs, and events like the Westville ArtWalk.
Please join the Kehler Liddell Gallery for these upcoming shows:
      July 9 - August 30: Artist as Curator, Group Show
      September 10 - October11: Corina Alvarezdelugo and Fethi Meghelli, North Gallery One Person Show: Sven Martson
      October 15 - November 15: Keith Johnson and Amy Browning
      November 19 - December 20: Group Show
Kehler Liddell Gallery is located at 873 Whalley Avenue in New Haven, Connecticut. Gallery hours are Thursday through Friday from 11:00am - 4:00pm: Saturday and Sunday from 10:00am - 4:00pm. It is free and open to the public. For more information, visit our website, www.kehlerliddell.com, or call 203.389.9555.
Click HERE to read the full article and to comment.